Pretoria to Namibia Train Tour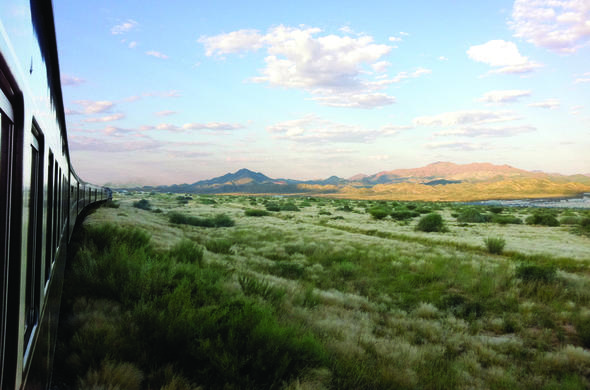 This 9 day 3 400-kilometre luxury rail journey from Pretoria in South Africa to Walvis Bay (Swakopmund) in Namibia also goes in the reverse order from Walvis Bay (Swakopmund) to Pretoria.
Accommodation: Locomotive, Lodge
Activities: Tour the Big Hole, Kimberley (South Africa), Fish River Canyon visit (Namibia), game-drives in Etosha Park (Namibia).
Destinations: Pretoria and Kimberley (South African); Fish River Canyon, Windhoek, Namib Desert, Etosha National Park and Swakopmund (Namibia)
What you can expect from this Namibia train safari
This 9 day train journey takes you 3 400 kilometres from the savannahs of the Highveld in South Africa, to the shores of the Atlantic Ocean at Swakopmund in Namibia. A visit to Kimberley and The Big Hole, the spectacular Fish River Canyon and the stark beauty of the Kalahari and Namib Deserts are among the highlights that you will get to enjoy.
There will be a visit to Windhoek, the vibrant capital of Namibia, and an overnight stay at a game lodge bordering Etosha Pan in Etosha National Park. Your journey ends in Swakopmund, the adventure capital of Namibia. At this perfectly preserved nineteenth-century German Hansa, the the Namib desert dunes meet the Ocean. This a remarkable sight and a fitting end - or starting place - for this fascinating journey.
Opposite direction available
This Rovos Rail safari tour is also available in the opposite direction from Swakopmund to Pretoria (please enquire about specific departure dates or itinerary).
Day 1: Pretoria, Gauteng, South Africa
Upon arrival at the Rovos Rail, board your carriage and settle down for your departure at 15h00 and witness the majestic goldfields of the Witwatersrand in the observation carriage. Enjoy an afternoon high tea and savor decadent treats while sipping aromatic cups of tea or coffee. Dinner is served at 19h30 in the pillared dining car. Delight sumptuous dishes and sample fine South African wine.
Day 2: Kimberley, Northern Cape, South Africa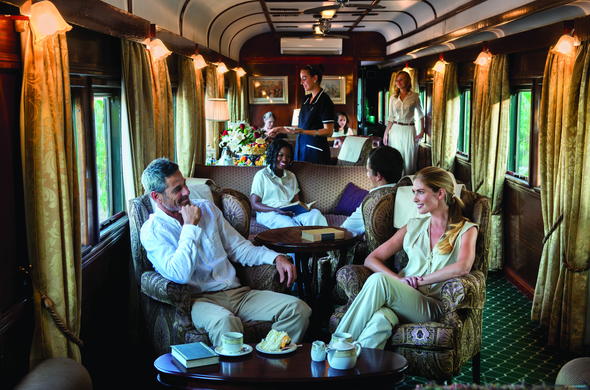 You will arrive at Kimberley at 09h45 and you will depart for your your Kimberley Big Hole and Diamond Museum excursion. Observe the largest man-made excavation in the world and expand your knowledge on the rich history of this former mining town. You will depart Kimberley about 12h30, just in time to devour a delightful lunch in the elegant dining cars.
Day 3: Holoog Siding, Namibia
Wake up early to take a hot shower in your luxury charter train accommodation. Delight a scrumptious breakfast to regain your strengths for the day. Embark on an optional two-hour walking tour of Upington in the Northern Cape of South Africa around 08h00. Explore the town's unique vegetation and
At 23h00 you arrive at Holoog after border formalities at Nakop.
Day 4: Fish River Canyon, Namibia
Embark on an excursion of the largest canyon in the southern hemisphere known as the Fish River Canyon. This rocky landscape breaks up into a series of striking cliffs. Wildlife can be spotted around the area and among common roamers of this vast rocky land are zebra, an abundance of antelope species, baboon, and rock rabbits. Depart for Keetmanshoop around 11h00 and traverse the scenic Kalahari. At 15h00 there is an optional two-hour walking tour of Keetmanshoop.
Day 5: Windhoek, Namibia
Upon arrival at Windhoek at 09h00, visit the national museum and embark a Windhoek City Tour. At 11h00 depart in a light aircraft for a 1-hour flight to Sossusvlei, where you will have lunch and venture a desert drive. Experience bush dining at its finest and enjoy a good night's rest at Sossusvlei, where you will spend the rest of your evening.
Day 6: Sosussvlei - Etosha, Namibia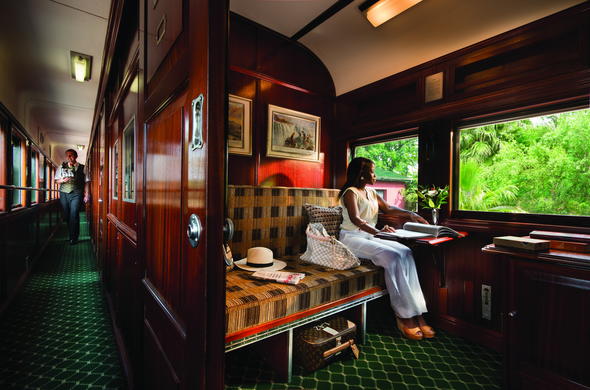 Wake up early to a fragrant cup of coffee for an early morning desert excursion. Witness the scenic views of the Namib dunes and track an abundance of game. Savor a hearty breakfast in the marshlands of Sossusvlei. Depart Sossusvlei at noon for your one-hour flight to the capital city of Windhoek. At 14h00 depart Windhoek and travel north towards Tsumeb and the game-rich Etosha National Park.
Day 7: Etosha National Park, Namibia
The train will arrive in Tsumeb, situated in the northern region of Namibia, at about 11h00. You will be transferred to Mokuta Lodge where you will enjoy a delicious lunch and spend the night. Embark on an afternoon game drive in the Etosha National Park. With your expert game guide spot the abundance of fauna that reside in the reserve among zebra, wildebeest, giraffe, and a number of antelope species.
Day 8: Etosha Pan, Etosha National Park, Namibia
Enjoy an early morning game drive of the Etosha National Park. Track lions and hyenas as they come back from hunting their prey, and try to spot the endangered black rhino. Board your carriage and devour lunch as you drive to the Atlantic.
Day 9: Swakopmund, Namibia
Freshen up delight a wholesome breakfast. You will arrive in Walvis Bay at 12h00. Check out of the train and continue your onward travel arrangements. The coastal town of Swakopmund is a 30 minute transfer by car.
Swakopmund is situated on the west coast of Namibia. The town features old Bavarian charm and is a popular seaside holiday destination. Swakopmund's continental vibe is its graceful Art Nouveau buildings that dates backs to the return of the previous century
Please note:
Excursions may be changed according to schedule achieved. Times are approximate and cannot be guaranteed.