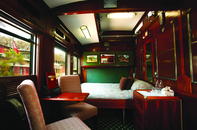 Read more about the suite configurations and accommodation on board the Shongololo Express train.
Shongololo Express Trains
Each Shongololo Express train has its own bar, dining and accommodation carriages. As in any hotel, bedding and towels are provided and cabins are serviced daily. Cabins have ample storage space and closets are equipped with both hangers and shelving.
All passenger compartments have hand basins and running water. Power is 220v AC and European plug adaptors are provided. In addition, there is an on-board laundry service.
Shongololo Express Cabin Layouts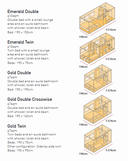 Please note: The graphic represented here may not accurately depict your actual cabin - it merely serves as a guide.