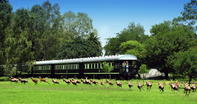 Rovos Rail offers many amazing African rail safari packages, from Cape Town to Dar es Salaam.
Visit the thunderous Victoria Falls on a 3-night adventure, meander through the heart of the South African bush towards Durban's proudest game reserves or spend 15 days on board the Rovos Rail from Cape Town to Tanzania for an unforgettable trans-zambezi trip.
Experience the majesty of Africa aboard the most luxurious train in the world.
See Rovos Rail train routes and rail joureys in Africa below.