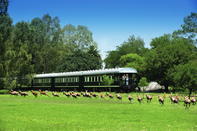 Enjoy a train railway safari with Rovos Rail. Step aboard The Pride of Africa, the world's most luxurious train, and encounter African wildlife in game parks.
First Class Train Travel in Africa

Step aboard The Pride of Africa, the world's most luxurious train railway: Rovos Rail operates classic trains of 20 superbly restored coaches, half of which date back to the 1920s. The trains, which may be hauled by steam, diesel or electric locomotives at various stages of the journey, carry a maximum of 72 passengers in 36 superbly appointed suites.
See Rovos Rail Suite Layouts A third 13-coach, 42-berth Edwardian train is available year round for charter. Pride of place in the Rovos stable goes to the historic and newly rebuilt Capital Park Station and locomotive yard, which is the heart and new headquarters of this private railway company.
Witness the Highlights of Africa by Train Railway
It is a series of train journeys lasting from 24 hours to a fortnight, the Pride of Africa links some of Africa's greatest destinations from Cape Town a the tip of Africa to Dar Es Salaam in Tanzania, from scenic splendours as diverse as the game reserves of Mpumalanga to the Victoria Falls, from the desert landscapes in Namibia and the stark beauty of the Karoo to the lush cane fields of KwaZulu-Natal and the magnificent garden route along the Cape South Coast.
See Rovos Rail Luxury Train Routes
Luxury Train Travel Facilties

The use of traditional furnishings and period decor, with top-class craftsmanship evident in fine wood panelling, has ensured an atmosphere of elegance and grandeur.
Each one of the carriages, from kitchen cars to sleeper coaches and guards vans, has its own story. A few dating back to 1911 were constructed in Europe and shipped to South Africa in the first half of this century.
Some have carried royalty, others have ended up serving as restaurants or lying derelict and forgotten in sidings for decades. All are now cherished members of the Rovos Rail fleet of 60 carriages.
Read more about Rovos Rail Train Railway Facilities