Cape Town to Pretoria Luxury Train Journey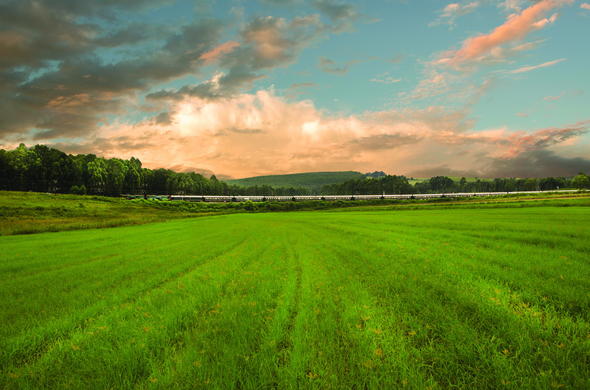 This 1 600-kilometre luxury train journey travels from Cape Town to Pretoria and also in reverse from Pretoria to Cape Town.
Accommodation: Locomotive
Activities: Visits to the village of Matjiesfontein, tour of The Big Hole in Kimberley
Destinations: Cape Town, Worcester, Matjiesfontein, Kimberley, Pretoria (South Africa)
What you can expect from this South Africa Train Travel route:
For many visitors to South Africa, there's no finer way to see the country than on the popular weekly journeys between Pretoria and Cape Town. One of the world's top destinations, Cape Town offers a blend of cosmopolitan city life, Table Mountain splendour and scenic Cape Winelands. The twin cities of Pretoria and Johannesburg in Gauteng, form South Africa's economic heartland and the ideal departure point for the Lowveld's world-famous game reserves.
Embark on a magical journey filled with luxury living and grandeur during this 1 600-kilometre route that follows an old pioneering trail carved out of the African bushveld, passing through the Cape Winelands and climbing up to the interior through the Hex River Valley. This enchanting trip will transport you back to the colonial and Victorian-era, with visits to the historic village of Matjiesfontein, a 100-year-old refreshment stop in the arid Karoo and Kimberley (city of De Beers), the diamond boom-town that's home to the Big Hole and the world's largest man-made excavation.
Comfortable and luxurious accommodation for an exclusive number of 80 passengers is in the Royal Suites, Deluxe Suites and Pullman Suites. Indulge in refined elegance and delicious meals during your three-day luxury train journey.
Opposite direction possible:
This Rovos Rail safari tour is also available in the opposite direction from Pretoria to Cape Town (please enquire about specific departure dates or itinerary).
Day 1: Cape Town, Western Cape, South Africa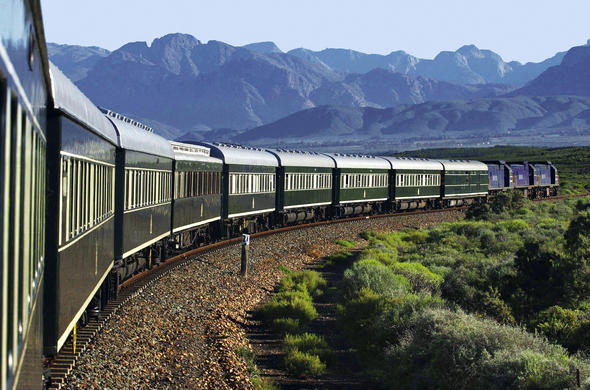 You will depart from platform 23 at the Cape Town station at 11h00 and proceed inland via Worcester. At 18h00 you will arrive at Matjiesfontein in the Central Karoo, where you can
enjoy a tour of this quaint little village
. Visit the Matjiesfontein Coffee House and savor a fine selection of home-made scones, delicious slices of cake and decadent koeksisters to accompany your fragrant cup of tea or coffee. An alternative option would be a visit to the Transport Museum, situated at the edge of the town. This local attraction features a unique collection of with vintage cars and bicycles, a London bus, and a steam train.
Your train departs from Matjiesfontein approximately at 19h00. Dress up in your best attire for a fine dining experience beyond your wildest imagination. Delight a flavoursome meal in the Rovos Rail dining cars and sip fine South African wine.
Day 2: Kimberley, Northern Cape, South Africa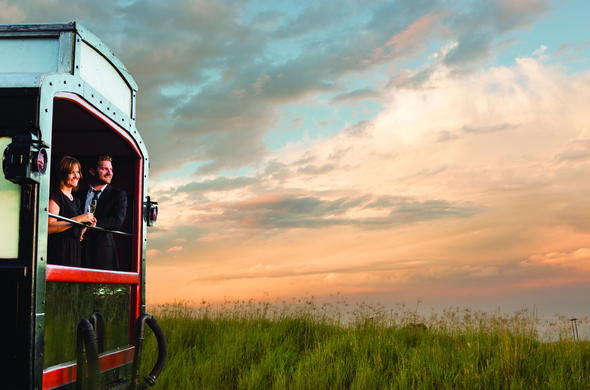 After a good night's rest in your luxury train charter accommodation, freshen up and enjoy a hearty breakfast served in the elegant Victorian-style dining cars. All meals are prepared with fresh ingredients that will meet every dietary requirement and satisfy fussy taste buds.
At 14h30 upon arrival in Kimberley, the capital of Northern Province in South Africa, board the buses in the city centre for an excursion to the Kimberley Diamond Mine Museum and Big Hole for a tour. Expand your knowledge about the largest man-made excavation in the world during interactive activities at the museum, including a city tour. Enjoy a high tea and sip a steaming cup of tea or coffee as your train departs at 16h30.
Day 3: Pretoria, Gauteng, South Africa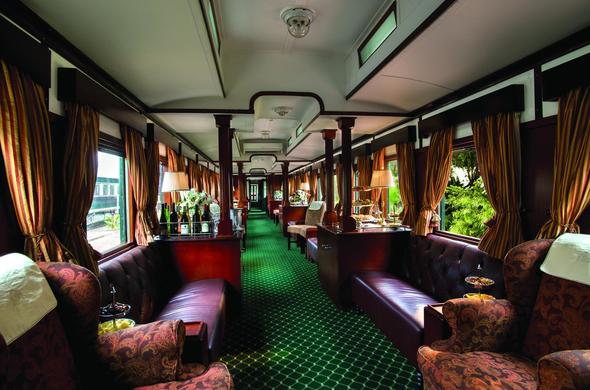 Delight a late breakfast that is served until 10h00, and enjoy the scenic views of the goldfields of Witwatersand on your way to Pretoria - your journey's end. Arrive at Rovos Rail's colonial-style Capital Park Station in Pretoria at noon and visit the authentic railway museum.
Please note
: Excursions may be changed according to schedule achieved. Times are approximate and cannot be guaranteed.