Pretoria to Victoria Falls | Africa Luxury Train Travel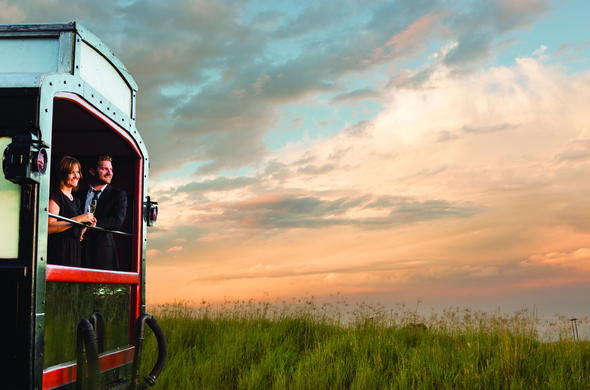 This 4 day Africa Luxury Train Travel from Pretoria in South Africa to Victoria Falls also runs in reverse from Victoria Falls to Pretoria.
Accommodation: Train
Activities: Game drive safari
Destinations: Pretoria (South Africa), Bulawayo (BBR line to Zimbabwe), Hwange National Park, Victoria Falls, (Zimbabwe)
What you can expect from this 4 day Victoria Falls train tour
Enjoy your luxury train tour from South Africa to the breathtaking Victoria Falls in Zimbabwe. Spend four days aboard the train known as the Pride of Africa as it travels north through Warmbaths, so named for its mineral waters, and Nylstroom before it passes the edge of the escarpment and crosses the Tropic of Capricorn en route to the border with Zimbabwe.
After formalities at Beitbridge the next morning, you will travel on the BBR line to Bulawayo, the second city of Zimbabwe. The following day sees the train travelling along one of the world's longest stretches of straight railway line (114 kilometres) before traversing the Hwange National Park, a rich and diverse wildlife sanctuary where animals can be spotted from the train and a game drive excursion is enjoyed. After a service stop at Thompsons Junction, the sojourn ends at the incomparable Victoria Falls on the mighty Zambezi River.
Live in comfort and luxury during your four-day journey to the Victoria Falls in Zimbabwe. Accommodation is a choice between the Royal Suites, Deluxe Suites and Pullman Suites. Recreational opportunities including cruises, whitewater rafting as well as superb game viewing and photo safaris.
Opposite direction possible
This Rovos Rail Africa luxury train travel route is also available in the opposite direction from Victoria Falls to Pretoria (please enquire about specific departure dates or itinerary).
Day 1: Pretoria to Botswana
Board the Rovos Rail at the private station in Capital Park station, Pretoria. Enjoy a sumptuous lunch in the elegantly designed dining cars. After travelling north through Warmbaths and Nylstroom, dinner is served as the trains heads towards Zimbabwe for border formalities.
Day 2: Bulawayo, Zimbabwe
Wake up around 07h00 to have breakfast. Savor freshly prepared meals and a steaming cup of coffee or tea.
Spend the day at your own leisure and enjoy an afternoon of reading in the lounge car or observe the spectacular scenery from the observation car as you make your way towards Bulawayo via Rutenga and Somabhula. Lounge in luxury and enjoy the views as you sip on a refreshing beverage. Tea is served in the lounge and observation cars at 16:30.
Freshen up and dress up in your best attire to meet other guests in the Victorian-style dining car. Engage in a night of fine dining as make your way to Zimbabwe. You will make an overnight stop at Mpopoma.
Day 3: BBR railway line to Hwange National Park, Zimbabwe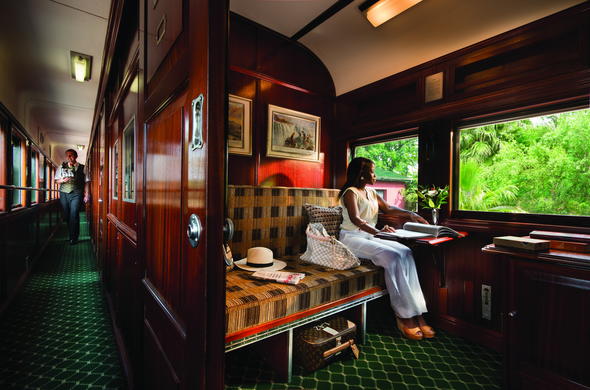 Delight a delicious breakfast as the train departs Mpopoma, Zimbabwe. Later on lunch will be served while travelling along the eastern edge of Hwange National Park, along one of Africa's longest stretches of straight railway line - an amazing 114 kilometres. Arrive at Kennedy Siding for a game drive safari at The Hide, where you can spot a myriad of wildlife. Track predators and prey on your Hwange safari drive. Dinner will be served in the dining car/s en route to Thompsons Junction for the overnight stop.
Day 4: Victoria Falls, Zimbabwe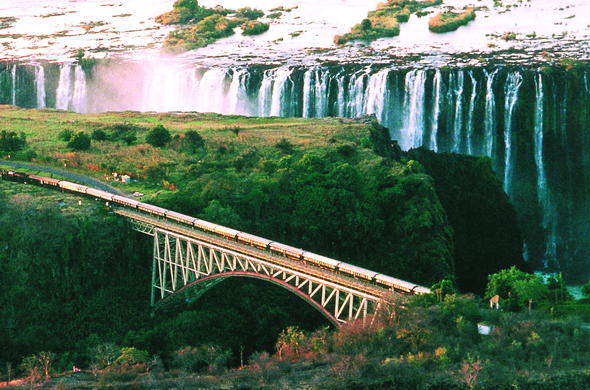 Savor a scrumptious breakfast on the last morning of your luxury train excursion to Victoria Falls. You will reach your journey's end at incomparable Victoria Falls on the mighty Zambezi River around 10h00.