Rail African Golf Collage Safari Tour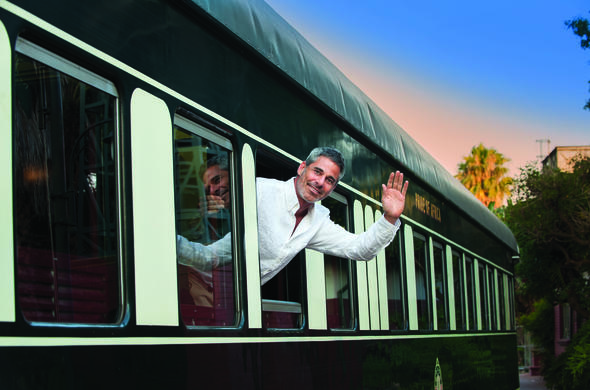 This panoramic nine-day luxury rail journey winds its way from Pretoria to Cape Town and includes a golfing and non-golfing itinerary.
Accommodation: Locomotive
Activities: Game-drives, Addo Elephant Park excursion,Highgate Ostrich Farm visit
Destinations: Pretoria, Malelane, Hluhluwe Game Reserve, Durban, Bloemfontein, Port Elizabeth, Oudtshoorn, Knysna, Cape Town (South Africa)
What you can expect from this scenic 9 day golf tour by train
Upon arrival, sip on a glass of champagne or juice and savor canapes that are served with a warm smile. The friendly Rovos Rail staff will take your luggage to your luxury suite. You will be escorted to your suite before the luxury locomotive departs.
Accommodation in this luxury charter accommodation is in one of 38 classic suites. The charter train has a number of facilities to ensure an unforgettable and comfortable journey. Admire scenic views of the rugged landscape from the observation car, enjoy an afternoon of leisure in the lounge car and delight exquisite cuisine in the banqueting and dining cars.
This panoramic 9-day sojourn commences at Rovos Rail Station at Capital Park in Pretoria. It leaves once a year. The first leg of the journey takes the train through Witbank and Middleburg and then traverses the majestic Drakensberg escarpment en-route to the lowveld of Mpumalanga.
The train sets off at midday from George travelling along the scenic Garden Route through Mossel Bay and Riversdale. The next morning, after a short visit to the KWV Brandy Distillery in Worcester, the Pride of Africa ends its magnificent collage in the Mother City of Cape Town.
Opposite direction possible
This Rovos Rail safari tour is also available in the opposite direction from Cape Town via Durban and Malelane to Pretoria (please enquire about specific departure dates or itinerary).
Day 1: Pretoria, Gauteng, South Africa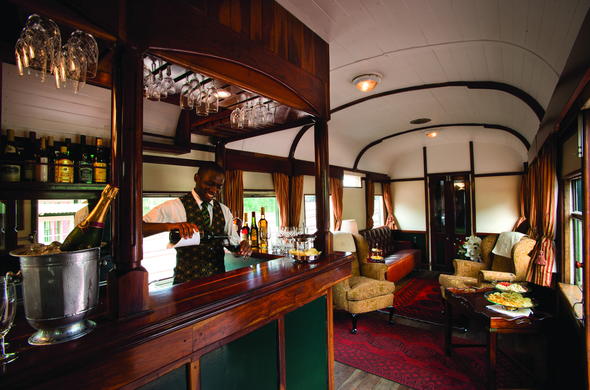 Board your carriage and make yourself comfortable in this luxurious locomotive accommodation. Your train will leave Capital Park station in Pretoria at 10h00. Admire the picturesque views as your train traverses the Highveld to the spectacular Drakensberg Mountains.
Day 2: Hluhluwe, Zululand, KwaZulu Natal, South Africa
An early morning wakeup call will indicate the start of a new day. Take a hot shower and dress comfortably for your game excursion through the Kruger National Park. Track the Big Five and other mammals that roam the majestic Kruger. Enjoy a light lunch before boarding your train at Komatipoort, where you will depart for Zululand.
The Golfers Collage tour will depart for Leopard Creek near the renowned Kruger National Park. Savor a light lunch before meeting a representative to take you on an excursion to Komatipoort.
Day 3: Durban, KwaZulu Natal, South Africa
Get ready to depart for an early morning game drive in the Hluhluwe Reserve in Zululand. Track buffalo, elephant, lion, zebra, kudu and leopard during your action packed safari drive. Make sure to pack your camera to capture this once in a lifetime opportunity.
After a morning of wildlife tracking, regain your strengths by savoring a delicious lunch as your traverse St Lucia Wetland Park for an overnight stop. Enjoy a scrumptious lunch.
Day 4: Bloemfontein, Free State, South Africa
Tee off at the renowned Durban Country Club and indulge the warm climate and stunning views of the lush vegetation and dunes.
The Non-golfers tour will continue with a city tour of Durban. Traverse the valley of a thousand hills to Ardmore Ceramics for a two-hour afternoon visit. Browse this unique art gallery that has an array of contemporary art on display by talented artists.
Day 5: Bloemfontein, Free State, South Africa
You will arrive in Bloemfontein approximately at 09h00 for a tour of the metropolis known as the city of roses. Admire the thousands of rose bushes in the city and witness the city through a bird's eye view at the Naval Hill. Visit the renowned Orchid House to view the world's largest collection of orchids.
Upon return you will continue your luxury train travel tour to your next stop, which is Alicedale in Eastern Cape. The Non-golfers Collage continues Coerney across the Drakensberg Mountains.
Day 6: Eastern Cape, South Africa
The Non-golfers Collage will continue their excursion at the Addo Elephant Park for a game drive to witness the myriad of wildlife that flock through the reserve. This elephant sanctuary is home to over 600 elephant and zebra, rhino, buffalo, lion, and hyena are among other game to be tracked on game drives. Board your luxury train travel accommodation and depart for Port Elizabeth.
A one-hour transfer from Alicedale to Humewood Course, where the Golfers Collage tour continues. Delight a game of golf. Enjoy wide undulating fairways, fast greens and thick coastal bush that are among the challenges to make this an exciting event. After a morning of golfing, board your train in Port Elizabeth and depart for Oudtshoorn.
Day 7: Oudtshoorn, Western Cape, South Africa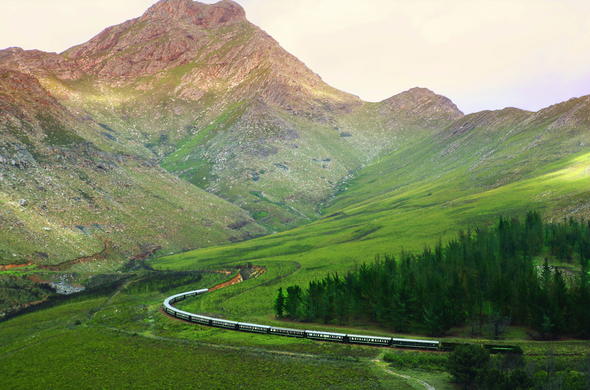 Visit the Ostrich farm to complete your visit to Oudsthoorn, the ostrich capital of the world. Learn about ostrich farming and engage with the lovely creatures.
Traverse the Montague Pass to continue your luxury getaway at your next stop to experience an enchanting night. At Fancourt Estate you will have a fine dining experience and delight delicacies prepared by experienced chefs. The Golfers Collage route will play a game of golf, followed by an decadent fine dining experience.
Day 8: Knysna, Western Cape, Knysna
The Golfers Collage can enjoy an excursion to Ernie Els Oubaai at Herold's Bay, for another round of spectacular golf at this stunning golf course that boasts magnificent views of the Indian Ocean. The Non-golfers Collage continues in Knysna for a ferry excursion to Featherbed.
At 13h00, you will depart George and travel through Outeniqua Mountains along the majestic garden route. Observe the breathtaking scenery of Cape fynbos and temperate forests.
Day 9: Worcester, Western Cape, South Africa
Situated in the heart of Breede River Valley, lies this Worcester wine-producing town. Take a tour of this distillery produces up to 367 500 litres of wine per day, on your luxury train travel tour. Inhale the aromas and flavours of the carefully crafted brandies.
You 9-day luxury train excusion ends at Platform 23, Cape Town approximately at 17h00. At the station you will meet your onward travel arrangements.
Please note:
Excursions may be changed according to schedule achieved. Times are approximate and cannot be guaranteed.