Pretoria, Battlefields and Durban Safari Tour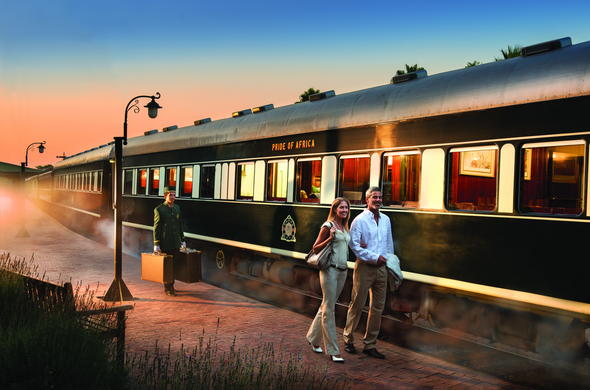 This 3 day luxury rail safari between Pretoria and Durban includes game drives, a battlefields tour with a world-class historian and a look at unusual African ceramics. This train trip also runs in reverse from Durban to Pretoria.
Accommodation: Locomotive
Activities: Game-drives, battlefields in KwaZulu-Natal tour
Destinations: Pretoria, Nambiti Private Game Reserve, Spionkop Game Reserve or battlefields, Durban (South Africa)
What you can expect from this South Africa Train Travel route
This 3 day safari between Pretoria and Durban departs in the morning from Rovos Rail's Station in Pretoria and slowly meanders towards your first stop in Elandslaagte, near Ladysmith.
Enjoy an early morning game-drive in Nambiti Private Game Reserve. Other activities on the second day of this Rovos Rail safari tour to Durban include a game-drive in the Spionkop Game Reserve or a visit to the battlefields in Spionkop, KwaZulu-Natal.
The train departs early morning and winds its way through the lush cane fields and rolling hills of KwaZulu Natal. You have the chance to visit the famous Ardmore Ceramics gallery before you arrive in Durban around 4pm, where this scenic safari ends.
Opposite direction possible
This Rovos Rail safari tour is also available in the opposite direction from Durban to Pretoria (please enquire about specific departure dates or itinerary).
Day 1: Pretoria to Elandslaagte, near Ladysmith, South Africa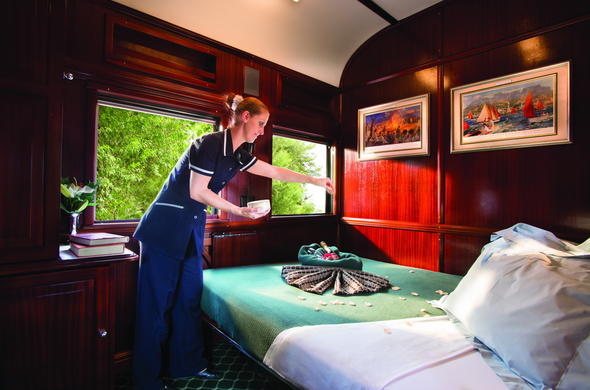 Board your carriage at the Capital Park station in Pretoria and embark on a three-day luxurious train excursion. Accommodation in this opulent and comfortable charter is a choice between the Royal Suite, Deluxe Suite or Pullman Suite.
Savor a light lunch with the Drakensberg Mountains in the background serving as a backdrop to your unique dining experience. Around noon, the train will ride up the 7040ft Majuba Hill near Volkstrust in KwaZulu-Natal. Sip a fragrant cup of tea and enjoy a few delicacies in the lounge and observation cars, as you work up an appetite for your royal feast. On the Rovos Rail, every dining experience is a special occasion. Dress up for this fine dining experience and indulge traditional cuisine and game meat while sipping fine South African wine.
Day 2: Nambiti Private Game Reserve to Spionkop, South Africa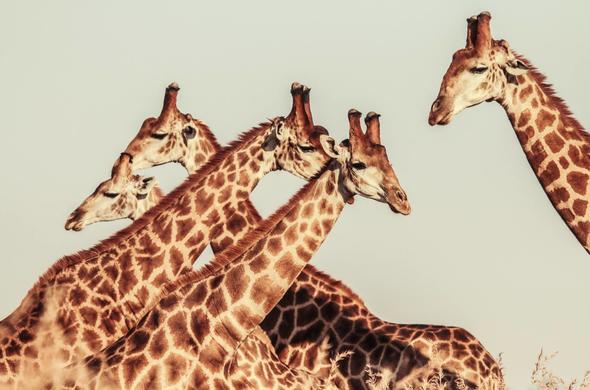 After an early wake up call around 06h30, embark a morning game drive in the
Nambiti Private Game Reserve
. Track the famous Big Five and other unique species of fauna and flora. The highlight of this game KwaZulu-Natal game reserve is breathtaking views of grasslands, riverine bush, savannah and thorn veld.
A morning of game tracking is best followed up with a sumptuous meal; have brunch in the Victorian-style dining cars and revitalise your strength for your next adventure. Upon arrival at Ladysmith, choose between two excursions - a safari drive at the Spionkop Reserve or a tour of the Spionkop Battlefields. After your excursion freshen up and meet at the dining cars for another fine dining experience. Delight decadent meals and sip fine wine. The dedicated chefs will tickle every palate and satisfy all your unique demands and dietary requirements.
Day 3: Durban, KwaZulu-Natal, South Africa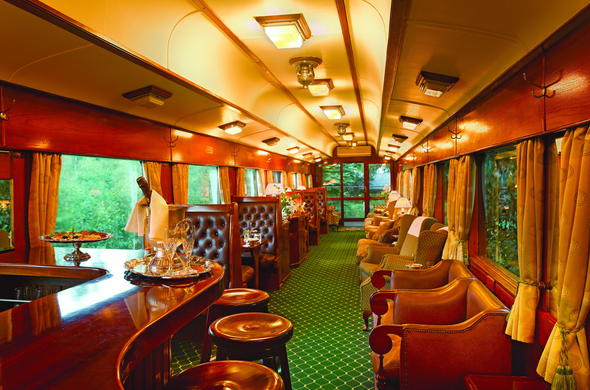 Wake up early on your last day of this luxury three-day train journey and enjoy a hearty breakfast as the train descends steep slopes on your way to the Lions River station. Take a cultural tour of the renowned Ardmore Ceramics Gallery and observe the unique artwork on display from Fee Halsted and other talented artists that use their unique talents to convey the message of the Zulu people.
Around 16h00 you will arrive at the Durban station for your journey's end.
Please note:
Excursions may be changed according to schedule achieved. Times are approximate and cannot be guaranteed.