Dune Express Train Tour, Pretoria to Swakopmund Train Trip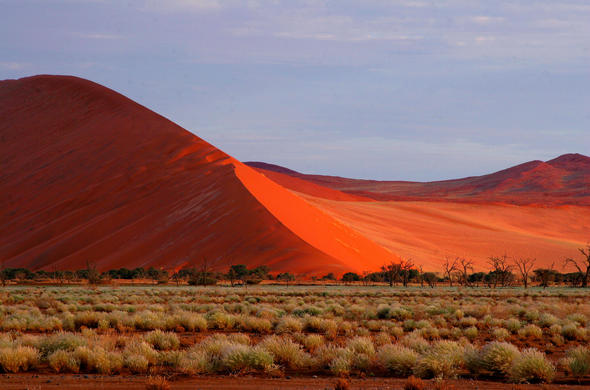 This train safari will take you from Pretoria to Walvis Bay (Swakopmund) in Namibia, providing an unforgettable Southern African safari. Please note this package is also available in reverse from Walvis Bay (Swakopmund) to Pretoria.
What you can expect on this 12 day Namibia to South Africa train trip
Namibia is a country of compelling beauty. Plentiful sunshine, unconfined landscape, the wide horizons, clear unpolluted skies and a population density which is among the lowest in the world that generate a sense of exclusion. Tranquility and stillness complements a landscape singular in its colours, full of contrasts of light and shade. Enjoy the country in its entirety during your excursion and explore the contrasting desert and beaches.
Accommodation in the Shongololo Express is in the Emerald Double Cabin, Emerald Twin Cabin, and Goldin Cabin.
The train departs Pretoria and your journey ends in Walvis Bay (Swakopmund).
Day 1 - Pretoria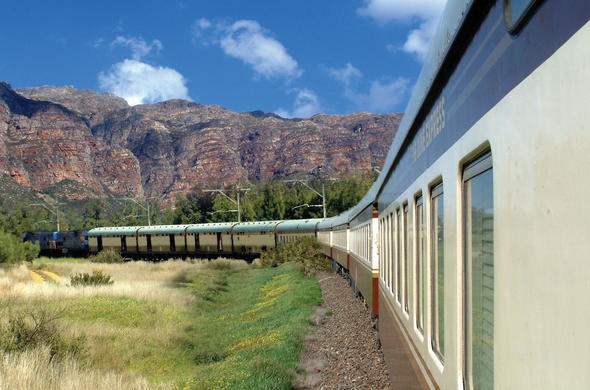 Board the Shongololo Express at Ravos Rail station in Pretoria. After being welcomed by your tour guide and the Shongololo Express representative, you will have time to relax and settle in as well as familiarise yourself with the detailed programme and the exciting excursions on offer to you during your trip ahead.
Sip a refreshing cold beverage before the train departs for Kingswood.
Day 2 - Kimberley Tour
Start your day with a hearty breakfast and afterwards meet your registered guide on board a bus for a half day orientation tour of Kimberley -The capital of the Northern Cape. Visit the Big Hole and Diamond Mine Museum. After your excursion head back to Kimberley station for lunch and depart for Upington.
Day 3 - Upington Tour and Wine/Brandy Tasting
After a delicious breakfast meet your guide for a historical tour of Upington and a wine/brandy tasting. Your tour will start with a drive past the Donkey Memorial and the railway on the Orange River. After your orientation tour you will arrive at Bezalel Wine & Brandy Cellar for a tour and tasting. Lunch will be served on your return and departs Upington for Nakop for border formalities with Namibia.
Spend the night at Holoog.
Day 4 - Fish River Canyon Visit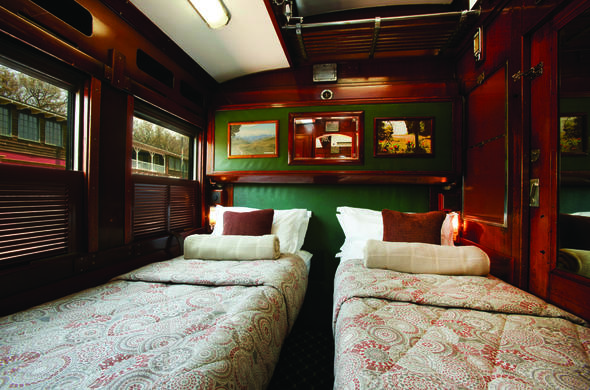 Wake up to an early morning breakfast and get ready to depart for Fish River Canyon - The second largest natural gorge in Africa. Listen to the fascinating facts and stories of the gorge from your knowledgeable guide while admiring the view. Its rugged and stoney plains, and drought resistant succulents make this a spectacular natural phenomenon. Enjoy lunch on board and. continue your adventure.
Spend the night at Aus.
Day 5 - Kolmanskop and Luderitz Tour
Wake up early for a full day excursion through the desert. Visit the ghost town of kolmanskop and see the wild horses on your way to Luderitz. Tour the historical town and learn about colonial architecture and the diamond rush. The area is home to a variety of aquatic birdlife, if you're lucky you'll see the gorgeous flamingos dance.
Board your train at Aus station to continue your train excursion to Keetmanshoop.
Day 6 - Keetmanshoop Tour
Savour a tasty breakfast before starting the day. Today you will tour Keetmanshoop to see dolerite dykes and the Quiver Tree Forest.
The first stop on the tour is a visit to the Giant's Playground and explore the three to five meter tall dolerite dykes. Afterwards you will visit the Quiver tree Forest which is home to roughly 300 specimens. Don't forget your camera as both sites makes for fantastic photographic opportunities.
Tuck into a delicious lunch on return to the train and depart for Mariental.
Day 7 - Overnight at Sossusvlei Lodge with a visit to Seriem Canyon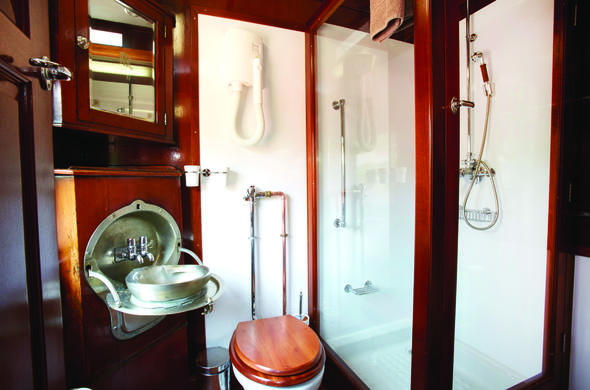 Wake up early for breakfast and afterwards meet your guide for a transfer to a Sossusvlei lodge in the Naukluft Park and explore the Seriem Canyon.
Today you will visit the Sesriem Canyon. The canyon was found by an early Afrikaans explorer and it is said that they used six (ses) leather straps (riem) to create a long rope to lower water buckets onto the canyon. The Sesriem Canyon is the one of few places in the area that holds water all year round.
After a great day out, head back to your lodge for dinner and spend the night at the lodge.
Day 8 - Sunrise from Dune 45 and Scenic Drive across Namib-Naukluft Park
Wake up to the smell of a warm cup of coffee and get ready for a scenic drive in the Namib-Naukluft National Park. The dunes in the Namib Desert were created by wind transport sand from the Namib coast. The areas is rich in iron-oxide content, which makes the beautiful red dunes. As the sun rises over Dune 45, the light gives character to the "star dunes" - the wind in the area causes the sand to form a star shope with multiple arms - and makes for stunning photographs.
On return to the lodge enjoy lunch and afterwards pack up for your transfer back to board the train and spend the night at Rehoboth.
Day 9 - Windhoek Tour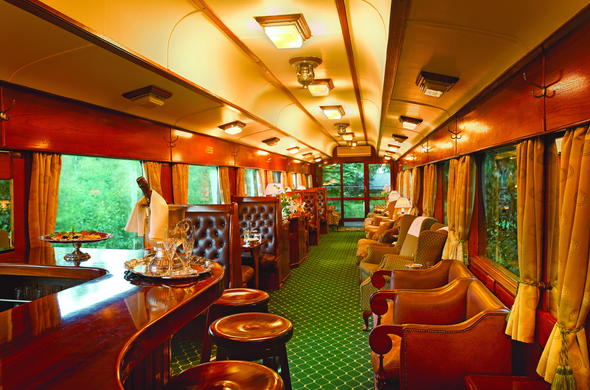 Start your morning with a tasty breakfast and get ready for your morning tour of Windhoek. Situated in Khomas highlands plateau, Windhoek is the capital city of Namibia. You will start your tour with a visit to the Transnamib transport Museum then head over to the museum at the Alte Feste Castle to view the independence display and social history gallery. Next you will pass the Christuskirche or Evangelical Lutheran church. This Romanesque, neo-Gothic and Art Nouveau style building was completed in 1910. The last stop on this tour is a visit to the Namibia Craft Centre in the old Breweries Building.
Board the train and enjoy a delicious lunch. Depart and overnight at Otjiwarongo.
Day 10 - Overnight Etosha National Park with Game Drive
Today you will be transferred to a lodge in the Etosha National Park. On arrival the friendly staff will settle you in and later head out for a 3-hour game drive activity. Etosha National Park offers excellent game viewing. See the big five and other wild species roaming freely across the endless horizons.
Return to the lodge for a mouthwatering dinner and spend the night at the lodge.
Day 11 - Etosha National Park Game Drive and return to Train
Wake up early and enjoy one last game drive before you transfer back to your train. On return enjoy breakfast. Afterwards check out and meet your guide for your transfer back to Otjiwarongo. Bid your guide farewell and board your train. Depart for Kranzberg for overnight.
Day 12 - Arrive in Walvis Bay and Depart the Train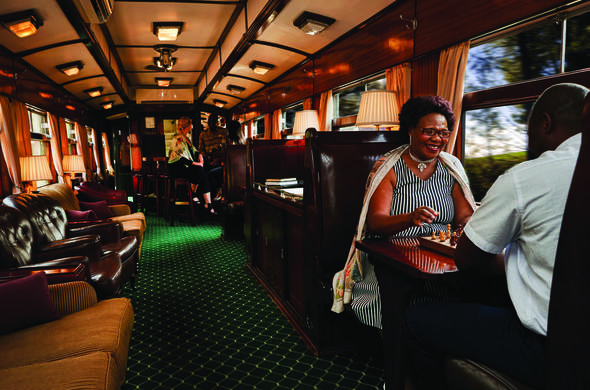 Your journey ends at Walvis Bay Station. Check out of the train and continue your onward travel arrangements. The coastal town of Swakopmund is a 30 minute transfer by car.
Swakopmund is situated on the west coast of Namibia. The town features old Bavarian charm and is a popular seaside holiday destination. Swakopmund's continental vibe is its graceful Art Nouveau buildings that dates backs to the return of the previous century.
Please Note
Please note this train journey is also available in reverse from Walvis Bay (Swakopmund) to Pretoria. We can arrange pre and post accommodation and transfers to the station.